This is one of my all-time favourite recipes and a real crowd pleaser. It's tasty, filling, crunchy and super healthy! It was originally inspired by Love & Lemons website, which I recommend, but I have added my own creamy vegan mayonnaise dressing, radishes, sunflower kernels and fresh pomegranate seeds. It's a meal in itself and never lasts long at a BBQ.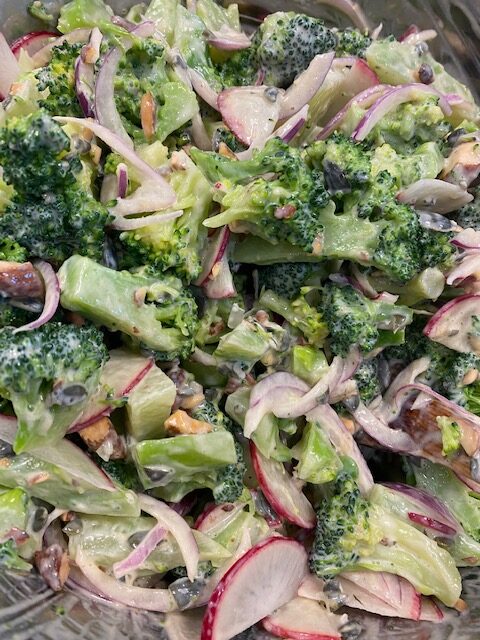 Ingredients
3 Large heads of fresh broccoli
1 small red onion, halved and finely sliced
6 red radishes, halved and finely sliced
Half a cup of tamari almonds, chopped
Quarter of a cup of pumpkin seeds chopped
Quarter of a cup of sunflower kernels
Seeds of a ripe pomegranate if you can get it or a quarter of a cup of dried currants if you can't
Dressing
A 300g packet of silken tofu
Quarter of a cup of apple cider vinegar
One to two heaped tablespoons of Dijon mustard
Salt and pepper to taste
Method
Wash the broccoli well in cold running water. Chop the head into bite sized florets, peel and trim the stalk and chop into similar sized pieces
Boil a large pot of salted water and blanche the broccoli for 3 minutes before rinsing under cold water to stop the cooking process. You want your broccoli to be easy to eat but still retain some of its freshness, it needs to be al dente, so avoid cooking it through.
Spin in a salad spinner to remove excess water
Put into a large bowl, add, red onions, radishes, nuts and seeds and either pomegranate seeds or currents
Put the silken tofu, apple cider vinegar and Dijon mustard to a bowl and blend with a stick blender until you get a think and creamy texture. You might like to add more apple cider vinegar or mustard, depending on your taste. Season well
Add the dressing to the salad ingredients and mix well
Enjoy!!