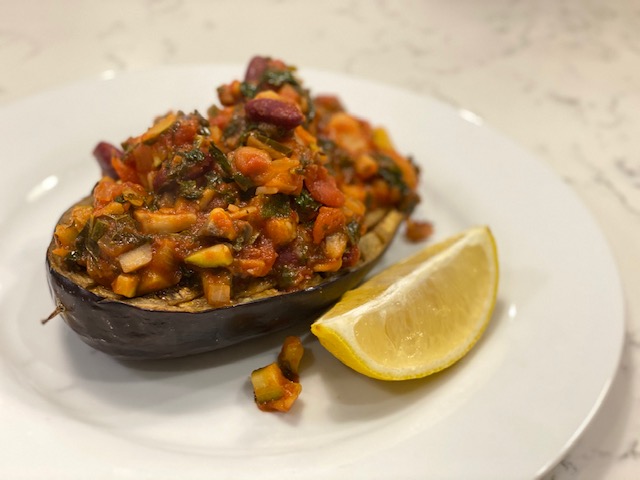 This delicious, filling and easy to cook vegan dish is packed with nutrients and fibre and is ideal for the whole family.
Ingredients
2 fresh eggplants
2-3 tablespoons olive oil for the pan + 2 tablespoons of olive oil for the eggplants
2 brown onions finely diced
3 cloves of garlic, finely diced
A pinch of dried chilli flakes (more or less to taste)
Salt and pepper to season
1 400 gm tin butter beans, drained
1 400 gm tin of red kidney beans, drained
1 800 gm tin of diced tomatoes
2-3 tablespoons of good quality tomato paste
Fresh Oregano, 1-2 tablespoons
Fresh Basil, small handful
1 medium sized zucchini, diced
250gm of mushrooms diced
Massel vegetable stock – 1 teaspoon
1/4 cup warm water
Method
Eggplants
1. Preheat a fan forced oven to 160 degrees
2. Slice eggplant in half lengthways, then slice the flesh inside the eggplant, three times along the eggplant and three across without cutting through the skin
3. Drizzle olive oil over the eggplants and season generously with salt and pepper
4. Place eggplants on a tray lined with baking paper into the oven for 25 minutes or until the flesh is tender and well cooked
Spicy Beans
1. Heat olive oil in a large pan and saute onions, garlic and chilli until onion is soft
2. Add zucchini and mushroom and stir through until they start to soften
3. Add beans, diced tomatoes and set to a gentle simmer
4. Mix stock in warm water until dissolved then add to the beans
5. Add fresh herbs and simmer for 15 minutes
Once the eggplants are cooked: remove from oven, place onto a plate and top with a generous amount of spicy bean mixture and serve with a wedge of lemon.
Serves 4.
Enjoy!