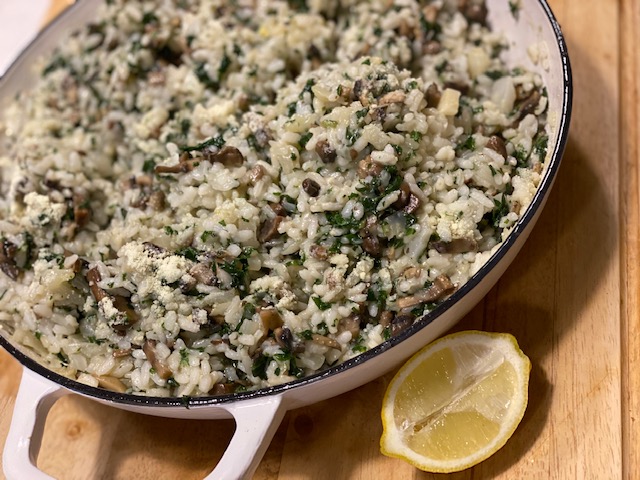 Here's a delicious, one pot, plant-based winter warmer for the whole family to enjoy!
Ingredients
¼ cup extra virgin olive oil
300gm Portobello mushrooms, diced
200gm Swiss brown mushrooms, diced
2 brown onions, diced
4 cloves of garlic, finely chopped
3 tablespoons fresh parsley, finely chopped
1 fennel finely diced
3 cups Arborio rice
1.5 litres of vegetable stock
100 gm of kale, finely chopped
Method
1. Preheat your oven to 180C or160C degree fan forced
2. Heat half the oil in an oven proof casserole and sauté onion, garlic and fennel until onions soften
3. Add rice and stir through until rice is coated and glossy
4. Add the stock and ¾ cup of cold water
5. Stir to combine and bring to the boil. Then cover and transfer to the oven.
6. While rice is in the oven heat the other half of the oil and sauté the mushrooms and kale until tender. Stir through the fresh parsley once cooked
7. Bake rice for 30 minutes, or until rice has absorbed most of the liquid.
8. Combine the rice with the mushrooms and kale
9. Season generously with salt and pepper
10. Serve with a wedge of fresh lemon and enjoy!