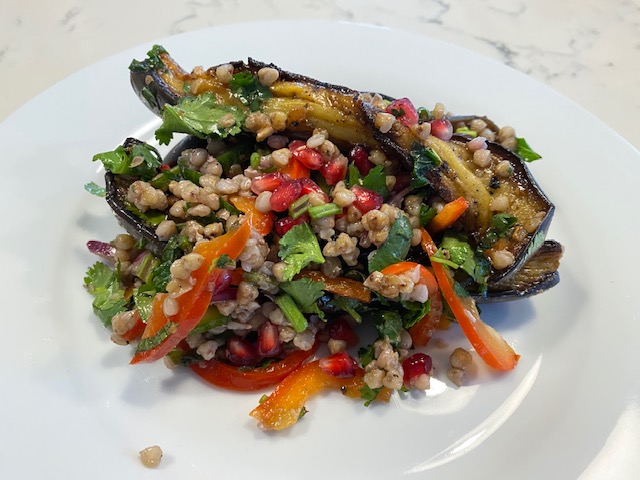 Ingredients
2 cups of vegetable stock
1 cups of buckwheat groats
2 tbsp Moroccan spice
1.2 cup extra virgin olive oil
2 large eggplants
1 red capsicum cut into fine slivers
1 Lebanese cucumber, halved and sliced
1 bunch fresh mint, chopped
1 bunch of fresh coriander, chopped
1 pomegranate
Method
1. Heat stock and buckwheat in a small saucepan with a lid, once it starts to simmer lower the heat and slowly cook until all liquid has been absorbed and the buckwheat is cooked. Remove the lid, mix the cooked grains to separate and allow to cool.
2. Slice eggplant in half and then again into long thin wedges, about 8 wedges per eggplant
3. Combine Moroccan spice and half the olive oil in a bowl and brush over the eggplant wedges
4. Heat the remaining olive oil in a large frying pan over medium heat. Cook the eggplant wedges, turning frequently until golden and tender. Transfer to paper towel and drain.
5. Place capsicum, cucumber, mint, coriander in a serving bowl
6. Remove the seeds from the pomegranate by cutting in half and hold the half over a bowl while firmly beating with a wooden spoon. Collect the seeds and pomegranate juice in the bowl. Season with salt and pepper and combine
7. Gently combine salad, eggplant and buckwheat and spoon over pomegranate seeds and juice
8. Enjoy!